Sun Life's
MONEY

FOR

LIFE

approach is a simple way for you to prepare for retirement, with ongoing support and advice from licensed experts.

If you are a member of a Sun Life plan, download our checklist to get started on your Retirement Journey today!

Download the Retirement Journey Checklist

Call 1-888-999-3978 to schedule a call with a Financial Services Consultant.
Retirement planning that's as easy as 1-2-3!
It doesn't have to be complicated. Sun Life's Money for Life Retirement Journey has just 3 simple steps: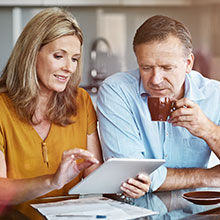 1. SET A RETIREMENT INCOME GOAL
Decide how much retirement income you want to have with help from your Financial Services Consultant1, or on your own using our online tools.
2. FIGURE OUT HOW READY YOU ARE FOR RETIREMENT
Get ongoing support to see if you're on track to reach your goal, monitor your progress along the way and make recommendations to help you stay on the right path.
3. CREATE A RETIREMENT INCOME ROADMAP
Work with a Financial Services Consultant1 to design your personal Retirement Income Roadmap so you'll have an overview of how your income will work for you in retirement.
---
The right support at the right time
No matter where you are in your retirement journey, our licensed consultants are here to help.
Financial Services Consultants
Help you during your working years to create a personalized retirement income goal and monitor your progress.
Retirement Consultants
Work with you before and during your retirement to put your plan into action and ensure you have the information you need to make the right decisions about your retirement income.